In the simplest terms, a laser diecutting machine uses a laser to completely cut through paper. Since no physical cutting tools make contact with the paper, the level of detail possible in the laser cut design is primarily limited by the durability required of the finished product. Designs are created when the moving laser cuts intricate designs into the paper.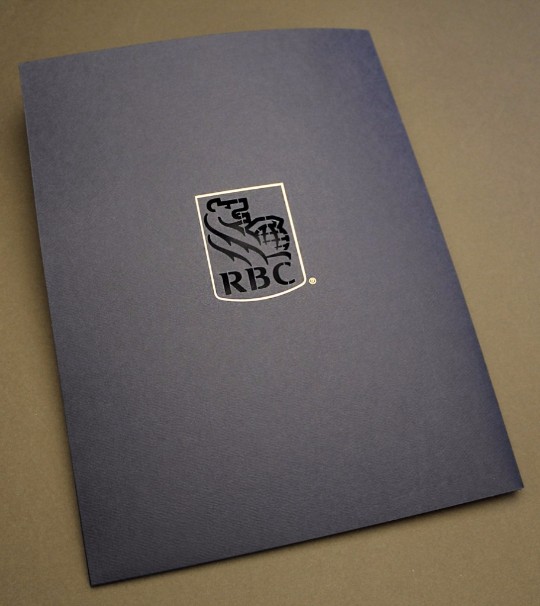 Success Story: In the picture above, you can see delicate hairline thin pieces of the design.  In the planning stage of this job, we tried three different coloured blue cover weight stocks. While a member of the graphic arts industry might note the difference, the different stock would appear identical to a lay person. The first stock we tested had a light blue burn line a quarter an inch wide around the image, which was unacceptable. The next stock we tested, the hairline connector pieces disintegrated. The third stock was successful and we produced 7,000 laser diecut portfolios.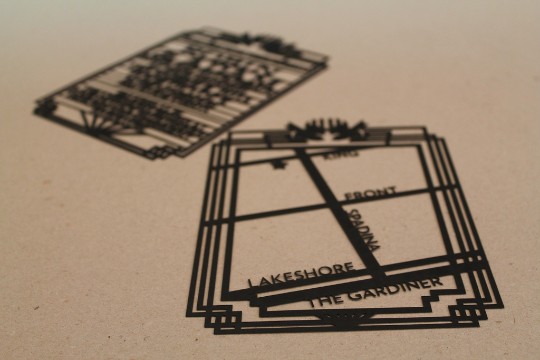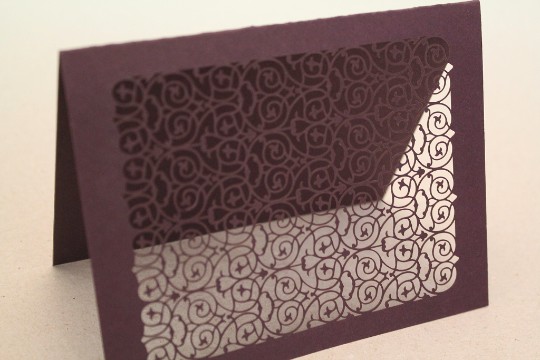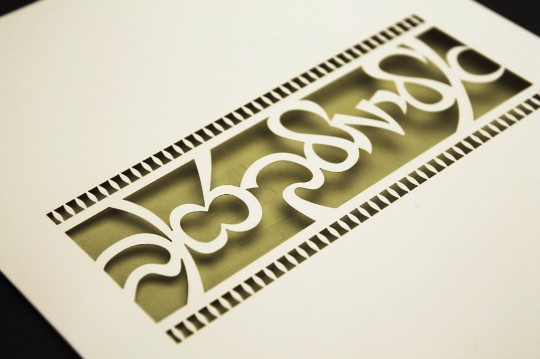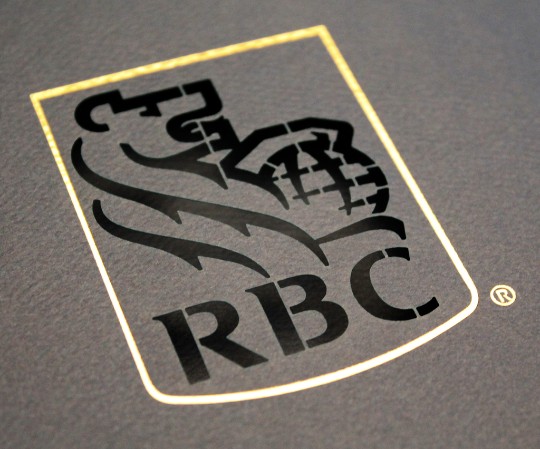 The Future of Laser Diecutting
Laser diecutting, as a graphic arts medium, is still relatively in its infancy. Though it has been used successfully by most greeting card companies for over 20 years, it is just now beginning to find a much wider use in the graphic arts industry.
Features of Laser Diecutting 
•    Unbelievably, intricate fine detail
•    Wide range of applications
•    Great for short runs
•    Creates a lot of opportunities for a designer's imagination
Benefits of Laser Diecutting
•    Can produce more intricate and finer designs that cannot be done by other methods like steel rule die cutting
•    No dies are needed, which can shorten the production time because the time to create a die is eliminated
•    The process is chemical-free and there is little to no waste
Factor to Consider
Many companies provide laser diecutting services for trophies, signs and plaques made out of glass, wood and steel. Laser diecutting on paper, however, requires a different skill set since the heat of the laser can sometimes create some discolouration or laser burn around the design on one side of the sheet of paper. This can be worked around by printing a neutral colour on the target side, designing the piece so that the target side is not seen or using the discolouration as part of the design, such as an 'antique' look to a lace pattern. The best way, however, to avoid laser burn is to choose a paper stock that cuts cleanly in the early design stages.
Having the stock you plan to use tested is the best way to avoid quality surprises later on. Testing should ordinarily be a free service, and I encourage customers to supply various stocks for testing. In the quoting stage, we often recommend two or three different stocks.
Laser Cutting – How to Make That Special Project Stand Out
At Specialties Graphic Finishers many of our processes are based on historic printing and binding methods but with the most modern up-to-date technology. Founded in 1939 we are one of North America's premier graphic finishing houses. With our expert staff located in Toronto, Ontario, we are able to help clients with the most complex projects. From banks to museums, from small companies to large, we are able to design and produce pieces that will help communicate your vision to your clients.
Laser cutting was originally used in the 1960's for cutting metals for industrial use, then in the 1970's the technology evolved using CO2 which allowed lasers to cut materials such as fabric and paper. Laser diecutting machines allowed designers to create intricate designs in a wide variety of mediums. Previous to this intricate cutting of paper or fabric would have to be done by hand thus greatly increasing the time it took to produce items and the cost of the product. Laser diecutting has greatly reduced the time needed to produce intricate projects.
One of the first industries that used laser diecutting was the greeting card industry; fancy designs for cards became very popular in the 1980's and 1990's. In the past decade laser diecutting has become increasingly popular with marketing professionals and at Specialties Graphic Finishers we work closely with marketing teams to produce unique and memorable pieces to promote a product which are often used for a special event or campaign.
The possibilities with laser diecutting are immense. Depending on your final product and its use we will work closely with you from the outset to choose the correct paper for your project. Depending on the intricacy of your design the paper choice is one of the most important decisions you will make; if your end product is something that will be handled extensively by your customers you will want to choose a paper stock that is both durable and attractive. Designs using laser diecutting can be incredibly intricate since there are no physical tools making contact with the paper. Another important thing to keep in mind with paper choice is that the heat of the laser can at times produce discolouration on one side of the paper. Our designers have years of experience with this issue and can advise you on how to best avoid this discolouration or how to incorporate this effect into your project. In the quoting phase we often include two or three examples of stock to test on. Many times we can work with the clients to create a design and choose a paper that has no discolouration at all.
Due to our decades of experience we love working with clients on complex and interesting projects – we love the challenge! We often find that laser diecutting projects involve multiple components. To give you an example of what we do, here are some of the most interesting and exciting projects we have worked on:
RBC folder
We were approached by RBC who wanted to create a special laser cut portfolio for their clients. As you can see in the photo this design included delicate hairline. To achieve this design we tested the laser diecutting on three different paper stocks; in the end we produced 7,000 portfolios for RBC.
High Level Museum Donor Boxes
Recently we worked with a client who wanted something extra special for their high-level donors. The goal was to produce 1,000 presentation pieces that could be safely couriered to high net worth donors asking for donations to a museum expansion project. This piece was an important part of their fundraising campaign and we worked closely with the client to make sure all of their design needs were met. The piece had to be able to withstand packaging and courier service, be easy to use and highly visual all while conveying the message the museum was attempting to convey. As you can see the end product was very successful and the client was thrilled. We were able to use several methods including: foil stamping, letterpress printing, diecutting, debossing, embossing and hand gluing certain elements in place. In the end there were five elements in this exciting project which allowed the recipient to interact with the piece. 1,000 pieces were mailed out and were an incredible success for the museum!
3D Cards
Some of our favourite projects include 3D designs. Often our clients will ask for a card which includes a 3D design element; these can be used as greeting cards, invitations or announcements for a major event. At Specialties Graphic Finishers our designers can help you create a fun 3D design that will be both functional and memorable. We are able to finish 3D projects either with machine folding or hand folding. Below are some of our favourite 3D designs we have produced.
Whether you have a small or large project that requires laser diecutting please give us a call so we can help you design and produce an exciting, innovative and memorable printed piece! Our expert team of designers at Specialties Graphic Finishers look forward to working with you.
https://sgfteam.ca/wp-content/uploads/2022/01/WEB_LOGO-copy.jpg
0
0
Norm Beange
https://sgfteam.ca/wp-content/uploads/2022/01/WEB_LOGO-copy.jpg
Norm Beange
2016-06-15 13:31:56
2022-05-31 19:38:31
Laser diecutting?