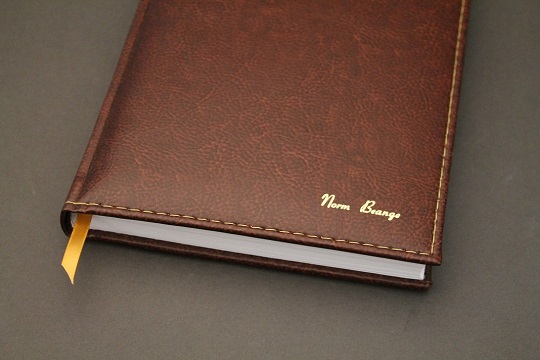 This image shows a binder with turned and stitched edges
"Turned Edge" refers to a traditional method of book binding in which a cover material is glued and wrapped around a sturdy sub-assembly, such as a chipboard casing, with the edges glued down to the inside surface of the product. With "Turned & Stitched" products we take the process one step further and sew the cover material to the sub-assembly around the perimeter of the product.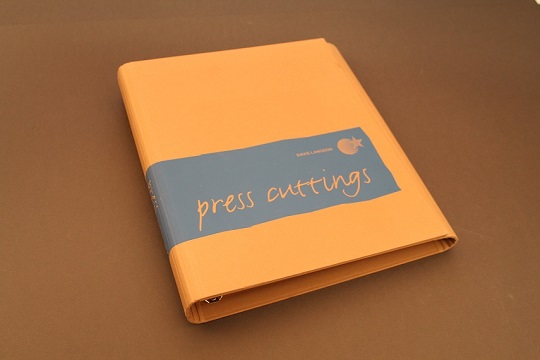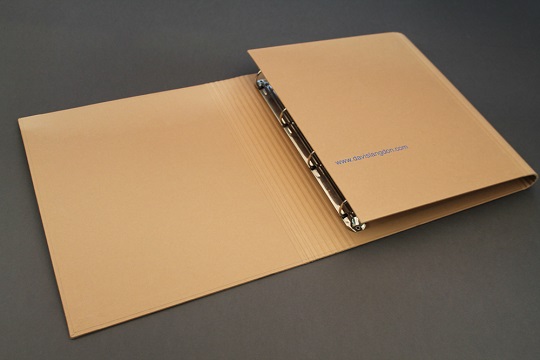 The two above images show hubbed or multi-creased spines
Our turned-edge ring binder construction and decoration capabilities are geared to meet your demanding business applications. To facilitate production, we can even provide layouts for your printed paper turned-edge wraps if you require them. Give us a call today to begin planning your next turned-edge ring binder.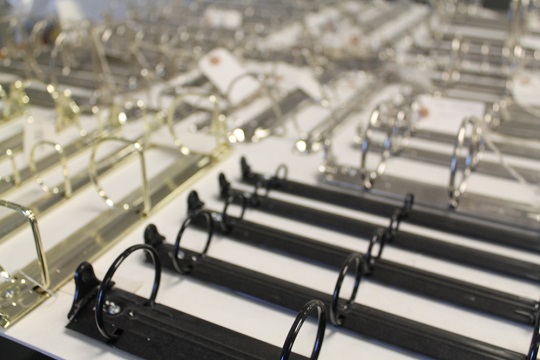 The above image shows a wide range of ring styles and sizes
Decorating Options
Printed paper – The best option is printed paper wraps for their economy and the creative freedom they allow. When used as a turned-edge binder wrap, printed paper should be film laminated to provide ample protection.
Screen Printing – This option is ideal for 1 or more Pantone colors required in moderate quantities (100 to 3,000). This process can be used on wide variety of cover materials.
Foil Stamping – Ideal for small quantity single color jobs or when metallic graphics are required. Die costs quoted separately based on square inches of coverage.
Deboss/Emboss – Dies and pressure used to create a depressed (debossed) or elevated (embossed) image. Embossing requires a set of male/female dies and is much costlier and far less common than debossing.
Personalization – Usually done using heated 18pt loose type to transfer foil to material. This process doesn't require dies and is economical when paired with digital printing.
Book Cloth – Specially-manufactured cloth wraps are available in several quality grades, colors and surface treatments to meet your design needs.
Faux Leather – For binders that must have an elegant appearance, faux leather provides the look without the high cost of genuine leather (which is available!).
Expanded Supported Vinyl – This premium class of heavy gauge vinyl has a fabric backing. This material scan be silkscreened, embossed, debossed, or foil stamped to create your own truly distinctive presentation cover.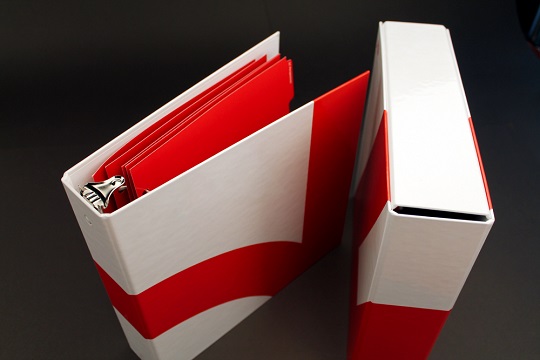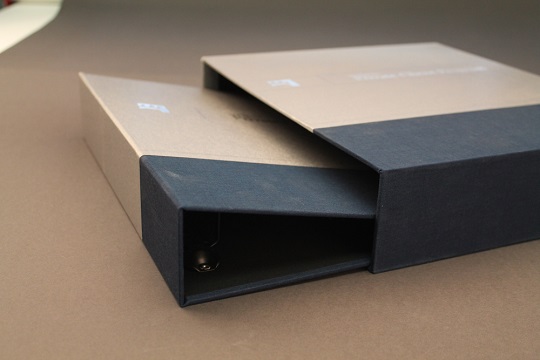 The above two images show binders with sleeves
Benefits
Superior Design & Range of Materials: Unlike heat sealing, which welds two layers of vinyl or plastic together, Turned Edge construction lends itself to superior design and the use of a much wider range of materials. The image below shows a binder with an acrylic cover and cloth wrapped spine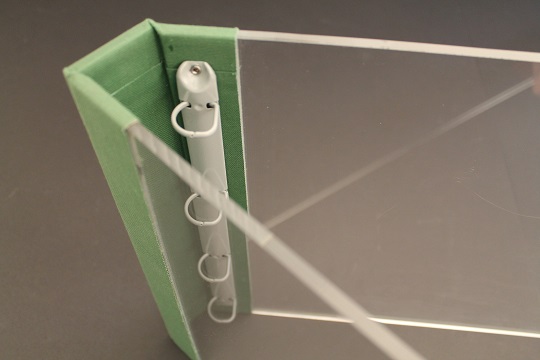 Full-Color Graphics: Turned Edge binders can be printed with crisp and elaborate full-color artwork. In addition to the outside cover, the interior of the binder can also be printed in full color.
Enhances Creativity: Turned Edge binders don't have seams like vinyl binders so the cover artwork can flow uninterrupted around the binder. Also, because the cover artwork wraps around the inside, a full bleed is automatic.
Available in Multiple Styles: In addition to ringed binders with or without pockets, the turned edge method can be used to create self-standing easel binders.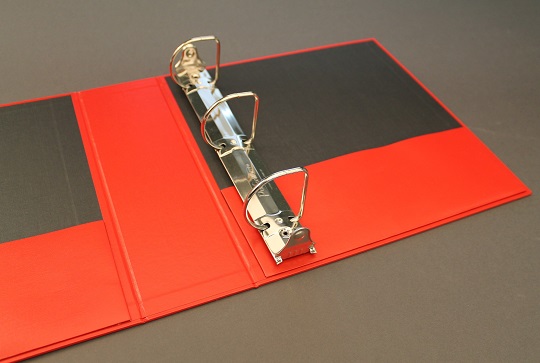 The above image shows a binder with casewrapped pockets
Special Sizes and Smaller Quantities: Unlike many other types of binders, turned-edge binders can be custom assembled. This allows for unique sizes as well as shorter production runs.
Professional Look and Feel: Turned Edge binders offer high visual appeal. Plus, they are extremely durable and well-constructed.
Faster Delivery Time: We can deliver these much more quickly than heat sealed vinyl binders.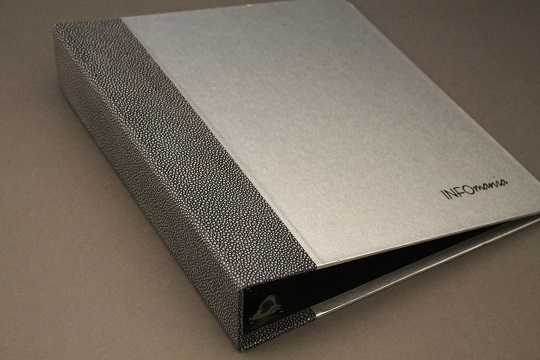 The two above images show a binder with black rings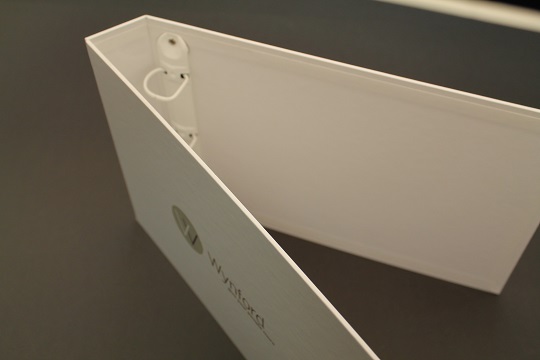 The above image shows a white binder with coordinating white rings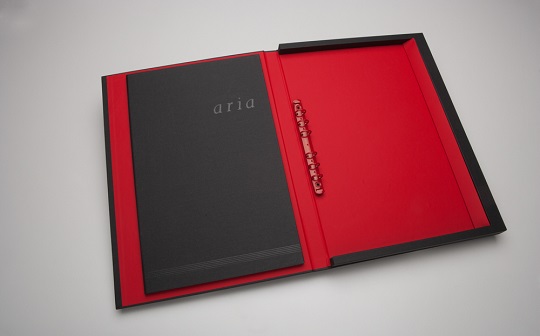 The image above shows a red and black menu with coordinating small, red rings
Factors to Consider
The most common mistake is that people frequently measure the outside width of the spine rather than the inside of the ring when specifying ring sizes! Check out the sheet capacity guide below (capacities are based on 20lb bond paper).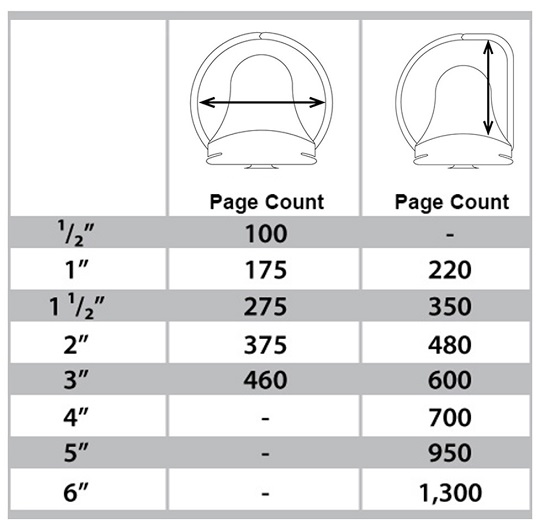 Graphic Design sizing for front, spine and back of binder
Ring style, size and availability. See the image below for the 4 ring styles available.

https://sgfteam.ca/wp-content/uploads/2022/01/WEB_LOGO-copy.jpg
0
0
Norm Beange
https://sgfteam.ca/wp-content/uploads/2022/01/WEB_LOGO-copy.jpg
Norm Beange
2016-11-29 14:06:20
2017-08-02 01:51:04
Turned Edge Binders