What is Loop Stitching? The following four images are the perfect answer.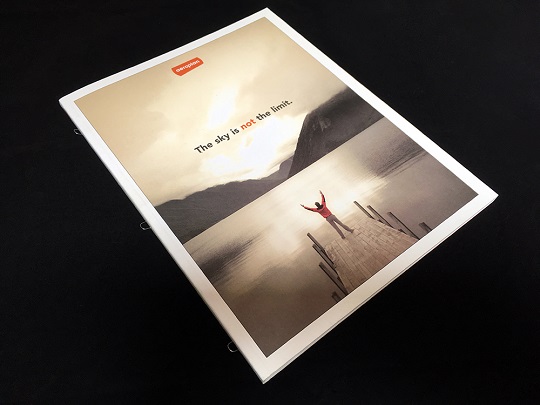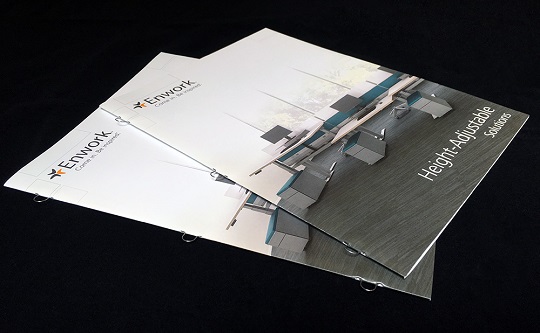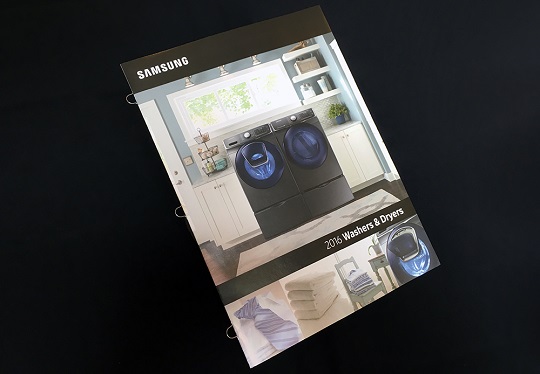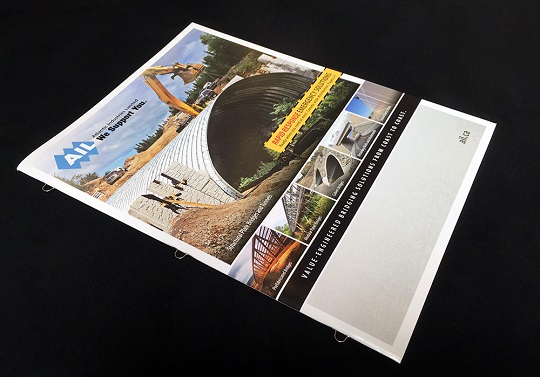 Loop Stitching is a saddle stitch with "loop." When a Loop Stitched book is open to the centre, it looks exactly the same as a regular saddle stitched book. The outside "loop" on a Loop Stitched book allows the book to be inserted into a ring binder with no drilled holes. The advantage of this is uninterrupted graphics and a cleaner look.
Our Loop Stitching comes in two sizes. The smaller loop size can be inserted into a ring binder with a ring size up to 1". The larger loop size can accommodate up to a 4" ring binder ring size.
Many jobs that require Loop Stitching are designed to be Loop Stitched, but many jobs are simply to a fix a mistake! Loop Stitching can rescue poor pre-press design, 3-hole drilling that ruins copy or graphics, etc. The books are simply Loop Stitched (instead of being reprinted and bound)!
We can Loop Stitch almost any size, like regular saddle stitched books. The following two images show a new process we have developed. This new process is the solution for a perfect bound book that was meant to be drilled but cannot be because the drilling obscures copy, graphics, prices, etc.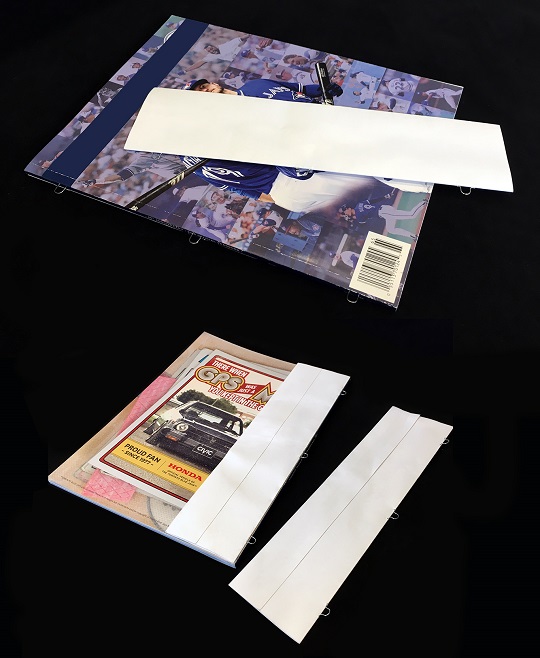 The solution we developed simply involves taking blank 10pt white stock, creasing and folding it as a 4-page, Loop Stitching it, gluing it closed and tipping it onto the back of a perfect bound book. Presto! You have a Loop Stitched perfect bound book and a problem, which may have required a complete re-print, has been solved!
Features
Benefits
Books turn more easily in ring binder if they are "loop-stitched" versus drilled
Unlike drilled holes, a loop stitch doesn't interrupt graphics
Perceived added value
Can be a very important solution to what can often be a very expensive problem
https://sgfteam.ca/wp-content/uploads/2022/01/WEB_LOGO-copy.jpg
0
0
Norm Beange
https://sgfteam.ca/wp-content/uploads/2022/01/WEB_LOGO-copy.jpg
Norm Beange
2017-08-02 01:59:00
2019-04-16 14:11:29
Loop Stitching