The service featured in this email is Kiss Cutting. The particular job I show in the video above is a sheet of Kiss Cut stickers that was bound into a children's Christmas wish catalogue. You might be thinking, "I thought there was just one kind of sticker!" Well, there are Kiss Cut and die cut stickers. The main difference is that a Kiss Cut sticker has a backer that is larger than the sticker, whereas a die cut sticker and its backer are the same size. Kiss Cut stickers are made by adjusting the die so that while it cuts through the sticker, it only "kisses" (but doesn't cut through) the backer.
Two benefits of Kiss Cutting are that there can be more than one sticker on each sheet and the stickers are easier to remove from the backer. The image below shows the difference between a Kiss Cut and die cut sticker.
This particular Kiss Cutting job was 25 stickers on 5.2 million sheets … that's a lot of stickers! We can do much smaller jobs and jobs in the millions of sheets. Each of these Kiss Cut stickers is about the size of a nickel and are in various positions all over an 8.5" x 11" sheet.  We have 4 – 40" Bobst/Brausse die cutters (one that is up to 36" x 50"!) that can handle a range of jobs.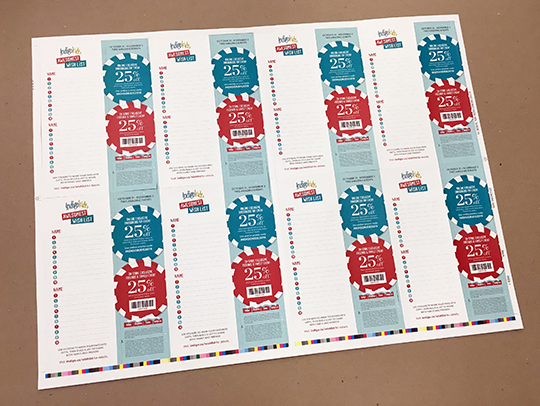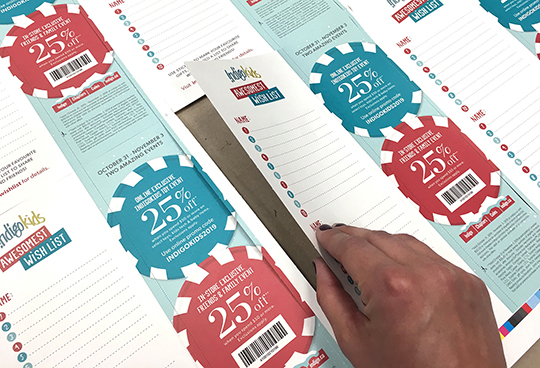 As you can see in the image above, Kiss Cutting was just a part of the job; we also die cut the individual sheets. One of the advantages of working with us is range of services we offer and our capacity. Not only do we offer die cutting services, but also binding, foil stamping, embossing and gilding … all value-added services!
For a quote or more information, please select an email address listed below:
Quotes at quotes@sgfteam.ca
Email us at norm@sgfteam.ca
Visit our website at www.sgfteam.ca
Phone me, Norm (416) 701-0111 extension 307 or cell (416)-895-9355
Need a sample? Just e-mail us at norm@sgfteam.ca!
USA CUSTOMERS
When you receive an estimate from us, our price includes two-way shipping (dock-to-dock). Our shipping team handles all:
Trucking & Expediting
Carrier communication & Border paperwork
Customs charges & Brokerage fees
Our production time includes two-way shipping
https://sgfteam.ca/wp-content/uploads/2022/01/WEB_LOGO-copy.jpg
0
0
Norm Beange
https://sgfteam.ca/wp-content/uploads/2022/01/WEB_LOGO-copy.jpg
Norm Beange
2020-12-08 08:49:19
2022-03-09 20:03:46
Kiss Cutting