The focus this week is on making packaging, pharmaceutical inserts and marketing materials more accessible. Improving accessibility does not mean increased costs! In fact, adding Braille for people who are visually impaired, can be done inline without additional machine passes or increased cost.
Braille is easily incorporated into diecut packaging and folded inserts. For die cut packaging, Braille can be added when cartons are being die creased. For folded inserts, Braille cells are easily applied inline using an embossing wheel attached to the folding machine.
If your customer is looking to make their folding, die cutting or packaging job more accessible to a wider audience, we have some ideas!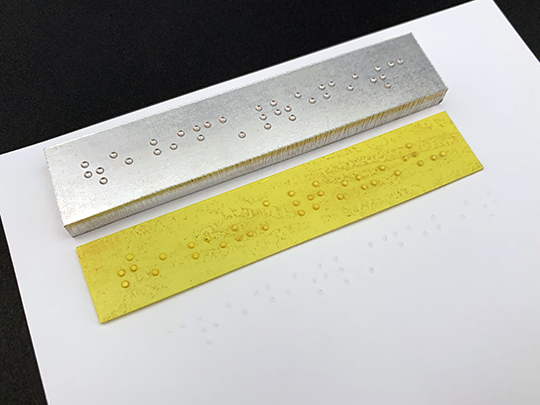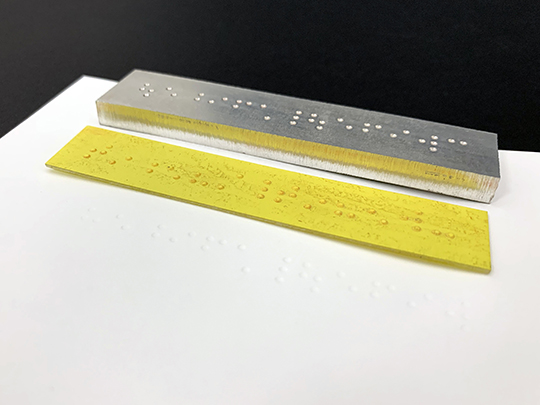 At Specialties Graphics Finishers, based in the GTA, we strive to provide our clients with the best design and packaging solutions for their product. Whenever we work with a client, we take into consideration the audience for their product and how it will be used. Specialties Graphics Finishers have been operating in Toronto since 1939 and with our decades of experience we are the preeminent graphics finishing house in Canada and service clients across North America.
The advantage of working with Specialties Graphics Finishers is that we can take on the most complex projects as we have the most up to date equipment and are leaders in the newest technology. In the past decade we have been pleased to see more focus put on accessible design and packaging. While accessible packaging is important for everyone it is estimated that nearly 1 billion people in the world currently have some sort of impairment with their vision. Vision loss can affect people of all ages and deeply impact how they interact and function in the world. Something that can greatly help people with vision loss is accessible design and packaging solutions.
There are several ways at Specialties Graphics Finishers we can help clients design and produce accessible packaging. Some of this can be in the graphic design elements we choose to include, whether it be a larger font or high-contrasting colors both of these design decisions can greatly increase the visibility of important information on a package. Another intriguing way we make product packaging accessible is by include braille.
Braille was developed in the early 1800's by Louis Braille, a French student who had lost his sight as a result of a childhood accident. Braille had received his education at France's Royal Institute for Blind Youth and while still a student he started to develop a tactile system which would allow blind people to read through feeling a series of raised dots on paper indicating letters.
At Specialties Graphics Finishers we have worked with numerous clients to include braille on everything from pharmaceutical inserts to marketing materials. Braille can be incorporated without any additional machine passes which means there are often times no additional cost to including braille on your packaging. We are able to include braille to the cardboard of a carton and even inserts into packages.
Another way we help our clients create inclusive packaging is by encouraging them to develop and include a QR Code into their packaging – combining this with braille provides incredible assistance for people with low vision. It is estimated that packaging that includes QR Codes and other design elements that share additional product information will grown into a billion-dollar business in the next two to three years. Consumers, more than ever before, are looking to buy and align with brands that are inclusive and accommodating to people with disabilities. PepsiCo, Coca-Cola and Amazon have already started using QR codes and have seen a huge increase in sales. QR Codes not only help those with visual impairment but also for any customer wishing to learn more about your product and brand.
Incorporating inclusive thinking into the design of your product and its packaging has never been more important. A few years ago, Accenture surveyed millennials and found 51% of people in this demographic would choose a brand that included inclusive and accessible design into their packaging over brands that did not. Companies that incorporate braille and QR codes, among other accessible design features, will reach a broader audience and stand out against competitors.
If you wish to explore the accessible design options for your product and its packaging, we encourage you to call Specialties Graphics Finishers today. With decades of experience, we can help design and position your product so that it has the highest level of design finish while being accessible. Our design team has helped several companies to design and produce accessible packaging including braille and QR Codes. We can advise you on commercial, pharmaceutical, promotional or any other sort of packaging you are wishing to develop. In today's consumer landscape all brands should keep an eye to being as inclusive and as accessible as possible. Call Specialties Graphics Finishers today so we can help you get started on exciting and accessible new designs for your product!
https://sgfteam.ca/wp-content/uploads/2022/01/WEB_LOGO-copy.jpg
0
0
Norm Beange
https://sgfteam.ca/wp-content/uploads/2022/01/WEB_LOGO-copy.jpg
Norm Beange
2022-04-19 14:52:22
2022-06-07 18:37:31
Braille and QR Codes – Make Your Product Accessible